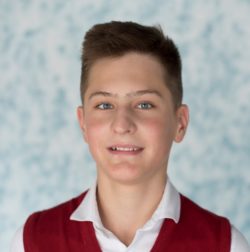 Volám sa Viktor Izák a na tejto stránke sa dozviete viac o mne a mojich aktivitách. Rodičia tvrdia, že som neobyčajné dieťa. Súhlasím s nimi, kedže na môj vek viem celkom veľa. Mojimi záľubami sú počítače, no nie na hranie hier, ale na tvorenie. Rád preskúmavam operačné systémy a hravo si poradím s každodennými technologickými výzvami. Zaujímajú ma medzinárodné vzťahy a môj názor je objektívny na všetko. Zaujímajú ma však aj jazyky, môj materinský jazyk je maďarčina, no slovenčina je môj oficiálny rodný jazyk. Angličtinu ovládam od materskej školy a momentálne sa učím po španielsky kvôli škole a rusky len tak zo zaujímavosti.
Kliknite sem pre zobrazenie mojich najlepších školských projektov.
My name is Viktor Izák and this website is all about me and my activities. My parents say, that I am a rare child. I agree with them, since I know quite a lot in comparison what my age level should. My hobbies are computers, but not for playing games, but for creating and being creative. I like to discover and install Operating Systems or deal with technological problems. I am interested by foreign relations and my opinions are objective on everything and I like to point out pros and cons on both of the sides. I like to learn languages, I speak Hungarian as my maternal language, Slovak is my paternal language. I learned English in kindergarden and I am currently learning Spanish and Russian due to school.